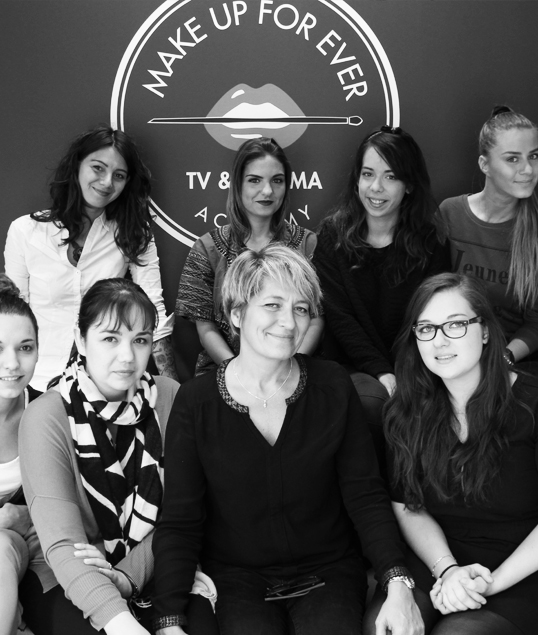 Armelle Corre
About Armelle Corre
/
I am very pleased to be able to pass on what I built for 30 years and to see my students evolve
Armelle Corre, professional makeup artist for 30 years, is affiliated teacher of Cinema module of the TV & CINEMA Academy Master Program. She tells us more about her carreer and her first experience as a teacher!
Armelle, tell us your course!
I have been a makeup artist for 30 years, I had the chance to start quickly as a make-up artist on feature films. My 1st film was Papa est parti maman aussi, a real challenge that pushed me towards an extreme demand and a rigor. Then I was an assistant. I was lucky enough to work in Italy and France with great Italian directors during the great period of Italian cinema in 1989. For example, I worked with De Sica, Mario Monicelli, Lina Wertmuller, Sofia Loren. At the same time I started to work on TV but also the opera and the theater, I became a true passionate. Such a diversity of universes, extraordinary people...
Afterwards, I wanted to develop my field of action to the photography so I did a training of hairdresser because dual skill is often required for shootings.
What are you most proud of in your career?
I'm very happy of the wealth of my relationships and to have had this requirement and rigor. I am very proud of some projects such as Cineccita or Alexandra aux pays des neiges (India). Recently, I am very proud to have worked and shared the universe of Nicolas Boukhrief for his "Made in France" film.
You are also teacher at the MAKE UP FOR EVER TV & CINEMA Academy. What do you think about the City of Cinema and the school?
Thank you Luc Besson! We feel at home here, it is a place of sharing which is paramount in our industry.
Concerning the school, the conditions are optimal for the students, a real chance for them. I was touched at my first experience as a teacher, I took it very seriously and I was very pleased to be able to pass on what I built for 30 years and to see my students evolve. I discovered that I am a teacher, it filled me with joy, I took a lot of fun!
Finally, working with the Academy team is a joy! A smiling and pleasant team. I felt carried and framed. I was trusted, I was able to create my program, a great satisfaction! Not to mention a nice exchange with other teachers who are also makeup artists.
Do you have a tip for your students?
Perseverance, rigor and observation will allow you to always progress!