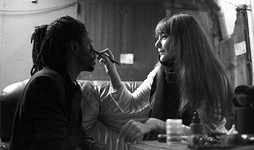 Louise Favier
About Louise Favier
/
At Make Up For Ever Academy, I met wonderful people while learning our beautiful job
After obtaining her degree in audiovisual and cinema, Louise joined the Academy in 2010.
She remembers the experience: "I have very good memories of it despite the stress it can cause. I met some great professionals, learned the rules of impeccable hygiene for my tools (brushes and hands), and most importantly I learned about our beautiful profession!"
In 2011, she started to work as a freelance on fashion shootings and in a photo studio. In parallel to her freelance activity, Louise is now an Affiliated Teacher of the Paris Academy.
For as long as she can remember, Louise has always been fascinated by makeup: "When I was younger, I stayed in the bathroom watching my mother putting on makeup, and I remember making drawings on paper with nail polish (that I bought with my allowance), and her makeup products!"
Today, make up is her job!