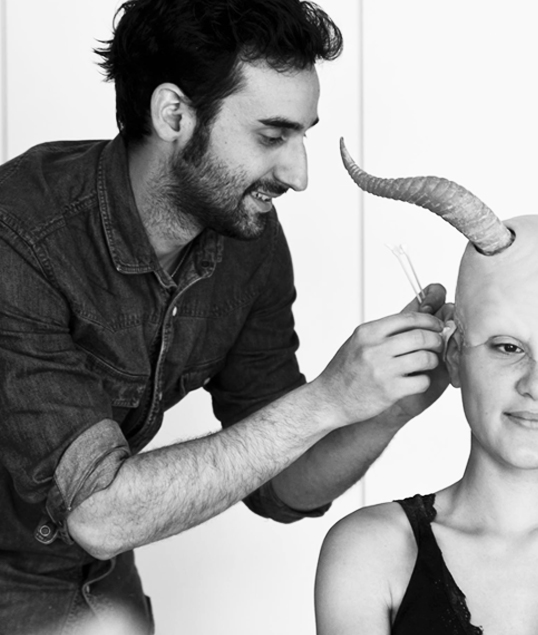 Harold Levy
About Harold Levy
/
A profession that combines passion, curiosity and observation!
After several years of beauty/photo make-up, Harold specializes in SFX, his passion, in 2008. The opportunity for him to collaborate with photographers, fashion designers(Alexander McQueen), traditional Cinema and special effects.
Harold has contributed to the creation of L'Exercice de l'Etat's famous crocodile as well as dentures and vampire make-up in Blood Rayne 3.
In 2012, he diversified into contemporary art for the Winshluss exhibition. Harold has also mixed beauty and small special effects in many music video clips (Louis Chedid and «M», Mademoiselle K, Didier Wampas ...).
How would you describe your Work?
"Above all, it's all about passion! The movie culture that we're all brought up in from a very early age has an inevitable influence on us. Our challenge is two-fold. First and foremost, we have to give life to new concepts and make our mark by escaping the usual clichés or ubiquitous cinematic influences; we also have to strive for ever more realism and less theatricality. The end product of our work has to be subtly different, playing with the harmony of form and color whilst always being hyperrealistic.
However fantastical they are, our characters have to be credible!"
What are your sources of inspiration?
"Anatomy is a fundamental basis. The characters we create might be monstrous, but their bodies have to be anatomically correct. Our work is above all an act of creation that depends on acute observation of the world around us. This constant observation is one of the keys that enables us to create highly credible characters.
Every detail matters, and the spectator's sharp eye misses nothing!"
What advice would you give to future students?
"If you're going to be a Make-up Artist in the movie industry then you have to be versatile – creative, of course, but also determined and tenacious. We combine all sorts of different techniques in our work. We're sculptors, draftsmen, Make-up Artists, handymen… So it's a profession whose foundations are laid long before you start your professional training. I'd say that, as well as being observant, you also have to be curious, to be interested in the techniques used in, say, sculpture, drawing, morphopsychology or mechanics, which might seem unrelated but which will certainly help you to understand the use of materials and light.
You need to have a similarly open mind to all the other professions you'll be working with: Director of photography, head of wardrobe, production designer… They're all fired with the same passion, share the same enthusiasm that makes you curious about everything and then enables you to bring some incredible movie projects to life."