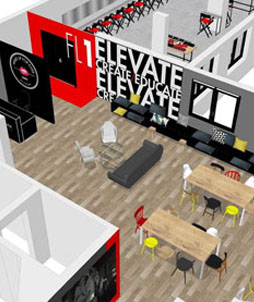 BREAKING NEWS : in September 2017 students will discover the brand new MAKE UP FOR EVER Academy campus in the very chic town of Boulogne-Billancourt at the gates of Paris: 1200m2, 6 make-up training rooms, more than 140 makeup stations, a photo studio , a MAKE UP FOR EVER professional shop !
After obtaining the recognition of a 10-month ARTISTIC MAKEUP ARTIST* training program (Level III**) by the Minister in charge of professional training and its registration in the Répertoire National de Certifications Professionnelles (RNCP) / ("National Repertory of Professional Certifications", the Academy continues its quest for excellence to become the most prestigious make-up school by investing a 2 times larger campus!
At the end of August 2017, MAKE UP FOR EVER's iconic Academy will take place at 110 avenue Victor Hugo in Boulogne Billancourt: 1200 m2, 6 training rooms, more than 140 makeup stations, a photo studio, a professional shop. The pedagogical team will be pleased to welcome its new promotion of future professional makeup artists in a quality environment that fosters creativity and excellence on September 6, 2017.
Our 15 years of experience allowed us to created workspaces that meet the needs of student make-up artists:
- 2 large separated classrooms for the long training programs (one on the ground floor and one on the 1st floor) for a better follow-up of the students, more calm for more concentration!
- A demo / conference space distinct from the practice space makeup with makeup stations in the long training rooms
- Common areas of rest and restoration on both floors for students.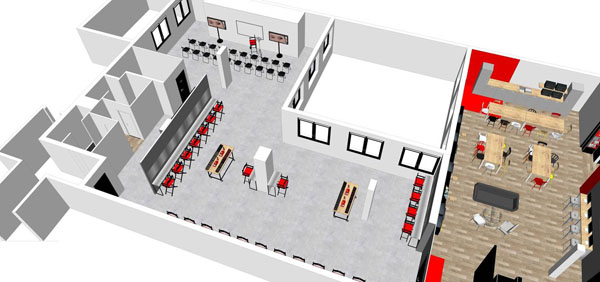 MOVED 3RD TIMES IN 15 YEARS
After moving his office to the basement of the MAKE UP FOR EVER historical shop at 5 rue de la Boétie in the 8th arrondissement of Paris, to welcome her student at the back of the shop, Dany Sanz decided to open a place dedicated to education, the first MAKE UP FOR EVER Academy at 37 rue de Liège, 75009 Paris. Dany's pedagogy was taught in two classrooms: one for intensive trainings and one for long training. In 2011, after 9 promotions, the Academy has earned a reputation for excellence, as a results of his succes, the team had to move.
Summer 2011, the new Academy opened the doors of its artist's workshop of 600m2 rue des Vinaigriers 75010 Paris, with a large training room of 250m2 under glass roof and a Ground floor of 350m2 for intensive training and team offices. 6 years of intense development with the celebration of 10 years of the Academy, 6 long training programs trained (more than 500 students), an intensive trainings panel expanded to new techniques and audiences, and a staff that has expanded with new functions such as business development, marketing, communication ... Growth has continued to accelerate until today. Summer 2017, a new move into a space that is twice as large and completely new to become a prestigious, friendly and creative place.
The school is quietly located at the end of an alley behind the 110 avenue Victor Hugo building in the heart of Boulogne Billancourt, metro Marcel Sembat (Line 9), and the classrooms are spread over 2 floors. The lively and shopping district offers a wide choice of student residences, hotels, restaurants, shops, transport (free bus, metro, vélib). The citgy is also a dynamic economy with studios like TF1 or Canal plus and a green and quiet environment.