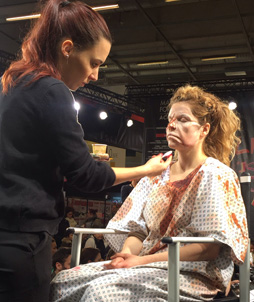 Camille, alum of the Paris Academy and the TV & Cinema Academy, has been selected for the competition Battle of the Brushes of IMATS London 2016, that begins today.
Tell us more about your background?
I'm from Toulouse, France where I studied beautician for 6 years. Then I came to Paris to studied makeup at the MAKE UP FOR EVER Academy, I took the 10 month long training (specialization Body art). It allowed me to make me dream come true : integrate the Master Program of the TV & Cinema Academy at La Cité du Cinéma, to specialize in Cinema makeup. I am passionate about everything that has to do with image and video.
How did you do to be selected at the Battle of the Brushes of IMATS?
I sent 10 beauty makeup pictures by mail to the IMATS team in the United States, with a registration form signed by the TV&CINEMA Academy. They have been very supportive in this project. You have to apply 1 year (maximum) after having graduated.
After they sent me an email saying that I was selected for Beauty / Fantasy competition of the IMATS London. I was hysterical, it is a unique opportunity for me to be judged by international professionals and develop my international network.
What will you do during the competition?
The theme is "circus", so I've decided to make an acrobat in pink, purple and blue shades. It is a face makeup only, we cannot use prosthetics. We only have two hours to do the makeup so it is best to prepare the hairstyle and costums before! I'm really motivated, I will give everything. See you Sunday for the results :)
Follow the IMATS adventure of the Academy team and Camille's Battles of the Brushes on Snapchat : makeupforeverac