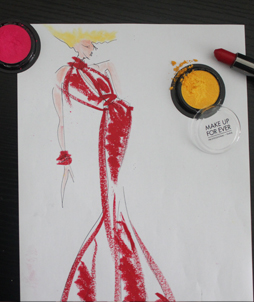 IFA Paris and MAKE UP FOR EVER Academy Paris have created an exclusive joint program "creative director" during 3 weeks in July
What lies behind the glamour of Creative Direction? In this practical training course students are invited to work collaboratively to understand the interlocking of conceptual and practical roles involved in commissioning, styling and executing a fashion shoot. The mix between practice-based and theoretical modules will bring a new vantage point to the study and appreciation of fashion in negotiating the best from designers, models, make-up and hair as well as fashion stylists according to a planned and flexible concept.
IFA Paris and MAKE UP FOR EVER, two of the most renowned French institutions in their specific industries, have created this exclusive joint course to give its participants the possibility to experience the work of a Creative Director in real-life settings. The training itself is built around 3 pillars:
1. An introduction to Fashion Design, to provide participants with an understanding of the overarching principles behind the development of a fashion house's positioning
2. An introduction to make-up techniques, to illustrate the main components behind the process of a successful and cohesive creation and understand how the basic technics are reshaped into a trendy make-up
3. An introduction to fashion photography, to explore the main techniques behind the organization of a fashion photo-shoot. Participants will learn how to organize and coordinate their own shoots, select the best possible make-up to convey what is illustrated by their creative brief, find locations and styling methods to produce a body of work that can then be edited and presented to a peer group for critique. The usage of SLR digital cameras in both outdoor and studio will also be detailed to the participants so that they acquire a sufficient theoretical knowledge necessary to provide creative directions for a shoot. In particular, they will be shown the basics of how to use and specify camera techniques, lighting, ambience and finishing.
On completion of the training participants will organize their own fashion shoot and will be given the opportunity to include it in their personal portfolio as a momentum of their learning experience.
The modules composing the course are as follows:
Fashion Culture
Trend Workshop
Garment & Composition
First Step in the Make-up world
Sensorial Perception and Styling
Boost the look!
Other Trendy Techniques
Styling Workshops
The Fashion Press
The Studio
Once upon a Shooting
Empower your creation!
Shoot, Review, Retouch
IN & OUT Shooting
Let's enjoy your Creativity
The Mode Challenge
INFORMATION
Duration: 16 days / 123 hours
Taught in: English or French
Campus: Paris
Intake: July 2016
Tuition fee: €3.500
Limited to 25 students per class*