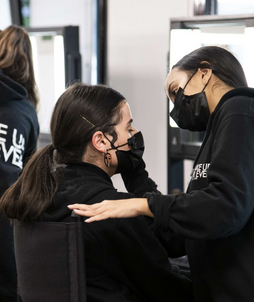 Just out of training and looking for a job? Here are the advantages of MAKE UP FOR EVER ACADEMY training to find a job quickly.
The benefits of a Makeup For Ever training course to find a job
Make Up For Ever offers training courses that give students access to the best professional techniques. Here are our tips for promoting your training and finding a job in the make-up industry.
The make-up profession: background
The job of a make-up artist is not an easy one. There are many more applicants than there are positions to be filled. Even with a very good level, it is sometimes difficult to find a permanent position: changes of employers and regions (or even countries) are frequent in this profession. The sectors offering the most opportunities for this profession are :
● Large chain shops and make-up brands,
● Beauty salons,
● The artistic field: entertainment, cinema, etc.
Select the information you want to highlight and differentiate yourself
It is a mistake to go into detail about your educational background or to present all your professional experience. It is essential to select the experiences that are most relevant to the position you are applying for. We also advise you to talk about your most significant and rewarding training and experience.
Your training at makeup FOR EVER ACADEMY has given you enough in theory and practice: don't hesitate to communicate this by going straight to the point.
Keep a chronological order of your MAKE UP FOR EVER ACADEMY training
It is also preferable to select the most recent experiences, which will show your interviewer that you can be quickly operational (internships, etc.). It is time to highlight all the experiences you have had while at MAKE UP FOR EVER ACADEMY.
Illustrate your experiences
Don't hesitate to talk about concrete cases - such and such a project - where you were able to use your qualities and skills and techniques or develop new ones. It is important to put things into context: you don't work the same way on a TV set as you do on a film, a series, or a fashion show.
Value self-training!
Naturally, you are expected to self-train as part of your MAKE UP FOR EVER ACADEMY training. Remember that self-training says a lot about a candidate's personality. Having taken the initiative to train yourself is highly valued by recruiters, especially at the beginning of your career. Even though you will probably start out as a make-up assistant to a senior make-up artist, it is important to show initiative.
Value your MAKE UP FOR EVER ACADEMY training(s)
All too often, people forget to value their education(s) in favor of their experience. This is a mistake. Even if you should not dwell on it for too long, the theoretical knowledge you have acquired and how you have put it into practice are interesting for the recruiter.
Fill in the experience 'gaps' and showcase the quality of your training and practical courses
Lack of training, lack of experience... Other candidates will always have more assets than you. This is why you must take advantage of the job interview to get the best out of yourself. Be reassuring about your desire to learn, your curiosity, your sense of autonomy, your ability to learn quickly, or your adaptability. In the absence of your experience, learn to value your skills and especially those required for the position offered. All these qualities that the MAKE UP FOR EVER ACADEMY training has of course brought you.
Photographer : Ombeline Le Gendre-Martin