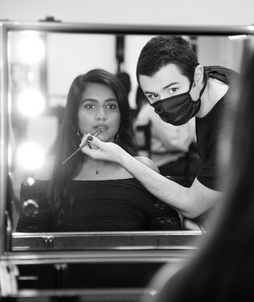 MAKE UP FOR EVER Academy is the reference makeup school for your makeup classes.
Do you want to join MAKE UP FOR EVER Academy Paris?
Founded by the creator of MAKE UP FOR EVER, Dany Sanz, MAKE UP FOR EVER Academy has been developing the expertise of future professional make-up artists for over 20 years.
When joining MAKE UP FOR EVER Academy, you receive outstanding makeup courses, delivered by a team of professional makeup artists.
If you want to be introduced to makeup or improve your skills over a short period of time, you can opt for an intensive training. If you wish to have all the keys in hand to become a professional make-up artist, we suggest you our master programms. If you prefer to take makeup classes at your own pace and from home, you can sign up for online classes. Finally, if you wish to deepen your knowledge on a specific theme, it is also possible to follow privates and customized make-up courses.
Our teams are at your disposal for any question, do not hesitate to contact us.
See you soon at MAKE UP FOR EVER Academy