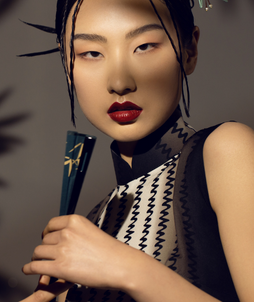 The New Lunar Year, also called the Chinese New Year is the perfect occasion to highlight Make Up for Ever Academy Shanghai.
Do you think that because of social media makeup trends become uniform and are shared worldwide? You would be surprised to see how from one country to another makeup techniques and trends are totally different.
The Chinese New Year is the perfect event to highlight Chinese makeup techniques, and to discover the C-Beauty.
The Chinese new trend in Beauty: The Guochao (国潮)
You only need to look at ancient illustrations to notice that western makeup techniques and eastern makeup techniques are like chalk and cheese.
The latest trend in China is the Guochao (国潮) beauty. This trend is embodied by beauty and makeup products using designs, colors, and codes from traditional China.
In makeup you can recognize this trend by the dominance of red: Chinese's makeup artists use it on the lips, as blush or even below the eyes.
China is known to be a modern country but is paradoxically coming back to a traditional C-Beauty, highlighting the cultural heritage of the nation. Even if the Guochao (国潮) beauty is anchored in the past and tradition, the trend is proudly represented by the younger generation, especially on social media. Therefore, the Guochao (国潮) makeup rises to the forefront of the international scene.
Make Up for Ever Academy Shanghai
As makeup artists, keeping up with trends is essential. One must be able to recognize and master new patterns and techniques. Indeed, the make-up artist's clients will ask for modern makeups, originating from the latest trends.
MAKE UP FOR EVER Academy professors are always on the lookout for emerging trends and draw inspiration from them to share their knowledge to our students. MAKE UP FOR EVER Academy Shanghai is the perfect illustration: professors and students were heavily influenced by the Guochao (国潮) trend to create their makeups. We cannot wait to see what looks they will create during the new Lunar Year!
Founded in 2013, and with over 1,000 students already trained, MAKE UP FOR EVER Academy Shanghai cultivates the artistic sensibility and makeup skills of its future makeup artists in the heart of China's fashion capital.
By joining Make Up for Ever Academy, you join a real network of professional make-up artists around the world: Paris, Shanghai, and Brussels.
Credits
MAKE UP FOR EVER ACADEMY SHANGHAI
MUA: ZHANG JING YU
Photograph: Crown
Model : ZHANG XIN MENG