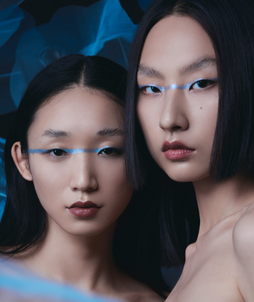 The holiday season is the perfect time to indulge in all kinds of fantasies, from clothing to hair and cosmetics. Dare the glitter and flashy colors!
To your palettes: rhinestones and glitter!
Neon eyeshadow, silver eyeliner, glitter and rhinestones for the eyes and face, glossy lips… Before even starting your makeup, you have to select your products.
Take a pallet with intense and iridescent eyeshadows, with rhinestones and glitter in different shades. Consider using your extravagant false eyelashes: it is the time to go all out!
Do not forget glowy creams, falshy and glossy lipsticks, as well as dark blushes to enhance your cheekbones.
How to get the perfect complexion?
Choose a fluid foundation of the same color as your skin tone and apply it with a sponge (a blender for example) or a brush all over your face and neck. You can mask the small imperfections with a concealer but be careful not to be too heavy-handed.
The skin must breathe, and the complexion must be light to highlight the colored eyeshadows and the different accessories (glitter, false eyelashes, rhinestones...).
Finally, apply a mattifying loose powder all over the face. For a more glowy effect, use a bronzer or a sun powder.
How to make up the eyes?
Choose an eyeshadow with a flashy color, that matches the outfit you are going to wear. Pink, purple, electric blue, green, neon yellow… It's time to let your colors loose!
Apply your eye shadow all over the upper eyelid and draw a thin line under the lower lash line to highlight it. Then use a lighter eye shadow (it can be the same color or a matching color) on the inner corner of the eye and under the brow bone. Draw a thick line of kohl or eyeliner along your upper lashes. You can choose black, gold or silver depending on the color of your eye shadow. Apply glitter on the mobile part of the eyelid. And finish the look with mascara on the top and bottom lashes.
You can also opt for false eyelashes in fringe (black or colored, with rhinestones or pearls, there are many models). Before applying them, place them at the base of your lashes to evaluate the right length, then cut them out. When you glue them on, remember to bring up the outer end of each fringe to open up your eyes.
How to use blush for an evening makeup?
For cheekbones, choose a light blush in pink or apricot if your eyes and mouth are already heavily colored. You can also choose stronger shades that will go beautifully with a glowy complexion, nude lips and a sophisticated eye.
How to apply lipstick flawlessly
If you opt for natural lips, choose a nude lipstick (beige ou light pink). On the contrary, for pulpy and eye-catching lips, bet on intense colors (fuschia, coral, red, purple…) and apply a touch of gloss. Do not forget to moisturize your lips with a balm before applying your lipstick. For a more precise application, use a brush by applying your lipstick in the middle of the lips and then stretching it outwards. It's up to you to modulate the intensity of the color by applying an additional layer if needed.
If you would like to learn how to perfectly apply makeup, you can follow the Beauty & Fashion training at Make Up For Ever Academy Paris, where you will learn everything from daytime makeup to the most sophisticated fashion show makeup, morphology and colorimetry.
Credits:
Shanghai Make Up For Ever Academy
Title: Blue Daydreaming
MUA: Xu Jiangting & Xing Yuru
Models: Han Xinji & Zhang Xinmeng