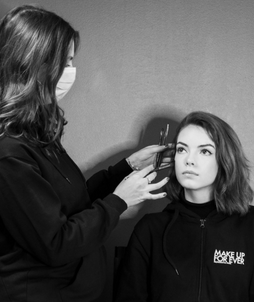 You are often amazed by the look of models who have perfect make-up with a dreamy complexion and intense eyes? With a few techniques and the right products, you too can apply your make-up like a professional.
First of all: prepare the skin
To do this, your model's skin should be thoroughly cleansed and gently dried with tissues or a soft towel. Then apply a light skin care cream to keep the skin moisturised throughout the day. Next, apply a foundation: this can be a healthy glow smoother, a serum, or any other foundation that will conceal imperfections, blur pores, and provide an even, natural-looking complexion. Before applying your eyeshadow, also apply a base to the entire eyelid: this will help the makeup set and last all day.
Only after this essential prerequisite can you start working on the complexion.
Use brushes
Whether you're applying foundation, concealer, blush or eyeshadow, it's important to use the right accessories. We recommend investing in a range of brushes with different tips and sizes depending on what you're going to use them for. You'll get a much more precise and natural finish with a brush than with your fingers.
Choose your concealer well and apply it AFTER your foundation
It is the foundation that will dissolve the concealer and not the other way around. It is therefore essential to apply it before the concealer. Choose the shade closest to the skin tone of your model and apply it with a brush or blender. Then apply your concealer and set and mattify with a loose powder.
Tip: For a nude effect, you can lighten your foundation by mixing it with a touch of moisturizer. The result will be more natural and will bring lightness to the complexion.
Which shade for your concealer?
Contrary to popular belief, the concealer does not have to be lighter than the skin tone, as it may turn grey if the model's dark circles are highly pigmented.
Tip: Try to match the skin tone of your model as closely as possible. If her/his dark circles are blue, then choose a slightly pinkish concealer. If her/his dark circles tend towards brown, then opt for a slightly peachier concealer. The idea here is to camouflage the dark circles while giving your model's complexion an even finish.
Pair the right textures together
Be careful not to mix too many different materials and textures, as the aim of professional make-up is to offer a harmonious result that is as natural as possible. For example, if you choose a foundation in the form of a compact powder, we advise you to use powdery textures for blush, eyeshadow and lipstick.
On the other hand, if you choose a fluid foundation, use fluid or glossy products for the whole make-up. For fluid, glossy or creamy textures, remember to lightly tap the areas concerned for a natural look with an appropriate brush. And in all cases, avoid being heavy-handed: it is better to proceed in stages, and add a little product as you go along rather than putting on too much from the start.
Blend makeup products
Whether you are applying eye shadow, blush or bronzer, it is essential to blend each product for a natural look. For example, when you apply a blush on the mobile eyelid after having applied a line of kohl or eyliner, use a suitable brush to blend the blush with back and forth and/or circular movements depending on the result you wish to obtain.
Tip: If you don't know how to combine colours, look for kits that usually come with matching duos or trios of shadows with a double-ended brush. Simply blend the shadows with the brushes to subtly blend them together. For example, you can easily find suitable palettes for a smokey eye.
Choose the right eye shadow shades
In principle, you can play with a wide range of colours for your model's eyelids, regardless of the colour of his/her eyes. Be careful, however, to choose a shade of eye shadow that is a little darker than his/her iris colour. For example, if your model have green eyes, you can combine grey, brown and green, but make sure to choose a strong green. Apply the darkest colour evenly to the lash line to emphasise the eyes. Then apply the other shadows and use brushes to blend them and bring out the shades.
Apply mascara in a zig-zag pattern
This technique is ideal for enlarging the eyes: simply apply the brush by moving upwards towards the outside of the lashes in successive zig-zag movements. Don't hesitate to add an extra coat of mascara to give your lashes even more volume and density.
Tip: Choose your mascara according to your model's lashes. If they are short and flat, choose a mascara that both lengthens and curves them. If they are thin and stiff, choose a volumising mascara to give them more density and a curling mascara to open up the eyes.
Sublimate eyebrows
A beautiful eye make-up is nothing without well-groomed and underlined eyebrows.
To help you make up the eyebrows, special "eyebrow" kits combine all the products you need to apply for impeccably shaped eyebrows in a single box.
Respect the shape of the mouth
Contrary to popular belief, the outline of the lips should not be drawn before applying lipstick but afterwards. Apply your lipstick preferably with a brush, you can also tap lightly with your fingers to make the product penetrate well, then use a lip pencil to define the edge of the mouth. Choose a pencil of universal colour, avoid pencils that are darker than your lipstick colour and above all, respect the shape of your model's mouth.
Finish with a touch of blush for a healthy glow
For a fresh, pulpy complexion all day long, don't hesitate to apply a touch of blush on the rounded part of the cheekbones, stretching it slightly towards the temples. Ask your model to smile! It will be easier to find the areas of his/her cheeks to highlight.
MAKE UP FOR EVER Academy's expertise is accessible to makeup addicts who want to master the basics of makeup. If you seek to learn fundamental professional makeup techniques, you can join our "Beauty and Fashion" training !
Credits
Photograph : Ombeline Le Gendre-Martin