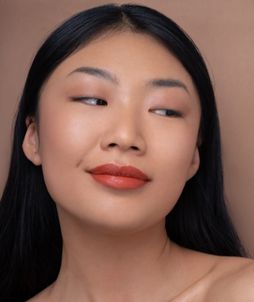 To help you achieve a beautiful, natural, fresh face makeup look, MAKE UP FOR EVER Academy gives you tips with steps to follow and a selection of products to use.
Step 1 : Prepare your skin
Preparing your skin for makeup is certainly one of the most important steps. The golden rule to keep pretty skin: remove your makeup every night and clean your face morning and night. Sleeping with makeup on suffocates the pores and you can be sure to wake up with a wrinkled, dehydrated face.
Remove makeup
If you've already worn makeup before starting your new makeup, it goes without saying that you should thoroughly cleanse your face with the right products. And even if you've already removed your makeup, there may still be some impurities or traces of makeup that need to be removed. For a deep cleanse, you can use a makeup remover, which removes impurities and makeup (including waterproof makeup) while leaving the skin soft and supple.
Simply apply a dab of makeup remover to your moistened face, massaging gently to ensure that the active ingredients penetrate.
Wash your face with water
Once your face is clean, remember to rinse it thoroughly with warm or cool water. It is advisable to finish rinsing the face with very cool water to tighten the pores and stimulate microcirculation.
Moisturize your skin
Your skin is now clean and dry. It's time to moisturize it. To reinforce the effectiveness of your moisturizer, it is wise to use one or more serums depending on your needs. For example, if your skin tends to dehydrate quickly, the Ultra HD Skin Booster Hydra-Pump Serum is ideal for boosting skin radiance.
Then, simply apply a moisturizing cream all over your face, avoiding the eye area. The skin in this area is particularly thin and fragile, so it requires adapted moisturizing products.
Step 2 : The importance of concealer
At this stage, the skin is ready to receive the first makeup products. And even before applying foundation, you must think about correcting your imperfections. Apply a small amount of concealer with your finger or brush on the imperfection you want to hide with light tapping motions, then blend the contours to avoid demarcation.
Step 3 : Apply foundation
The choice of foundation is crucial to obtain a makeup look that is both natural and enhances the face. In summer, with the heat, the skin tends to shine and over the course of the day, the makeup may not hold. That's why it's advisable to use a foundation that is both covering, mattifying, and long-lasting.
It is still advisable to use a makeup fixative to form a fresh, invisible barrier on your face like the Mist and Fix Make-up setting Spray booster. It can be used at every stage of makeup for a flawless finish. You can also use it in the evening to refresh your daytime makeup.
Step 4 : Conceal dark circles
Once the foundation has been properly applied to the face and neck, the next step is to conceal dark circles. Using a brush, apply 3 dabs of your concealer under the eye, in the area of the dark circle. Using your finger or a small sponge, stretch the material and blend it onto your dark circle.
Step 5 : Apply a complexion illuminator
To highlight certain areas of the face and give the whole look an irresistible glow, use a highlighter that will bring a natural glow to your skin and allow you to redefine volumes by adding touches of light to the desired areas. The illuminator can be applied alone or mixed with foundation (or base) to boost the radiance of your complexion.
Step 6 : Shape and set brows
Well-shaped brows add character to the face. Even though thin brows seem to be the trend, it's important to shape and fix them to add intensity to the look.
With sparse eyebrows, choose a creamy texture with a high concentration of pigments to redesign, intensify and even completely redefine your eyebrow line.