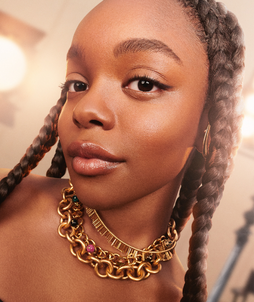 Discover how to apply HD Skin, the new MAKE UP FOR EVER foundation to have a natural finish thanks to its new improved formula.
FOCUS ON ME
Co-created with our pros, MAKE UP FOR EVER presents HD Skin, the new undetectable foundation that syncs with the skin. This new version of the iconic Ultra HD Foundation is powered by technology that enhances performance and undetectability, for a skin that looks like skin under any light.
With medium to high coverage, its modulating formula leaves a natural semi-matte finish on the skin and is ideal for normal, mixed, and oily skin.
This foundation is available in new and existing shades to improve upon the current range, with technology that ensures it stays true to its tone for undetectable coverage that lasts 24 hours.
SPONGE APPLICATION FOR HIGH COVERAGE
To achieve extra coverage, we recommend using a sponge to apply HD Skin Foundation. Here are the steps to follow to achieve perfect coverage:
1. Apply one pump to the back of the hand and apply with a damp sponge.
2. Lightly tap and stretch foundation onto the face, adding coverage where necessary.
3. Remember to wash your sponge after each use with soapy water.
BRUSH APPLICATION FOR MEDIUM COVERAGE
Apply HD SKIN with HD SKIN Brush #109 for medium coverage.
1. Apply one pump of HD Skin to the back of the hand or directly onto a brush.
2. Start applying in the middle of the face.
3. Blend and stretch the foundation outward until desired coverage is achieved. Avoid applying foundation around the eyes (on the eyelid or under the eyes), as this may accentuate the signs of aging or fatigue.
4. Wash your brushes after each use with soapy water or Instant brush cleanser.
ADAPT YOUR PRODUCTS ACCORDING TO YOUR SKIN TYPE
For normal to mixed skin​
Use #Step 1 Hydra Booster to hydrate your skin, then use the ULTRA HD CONCEALER and the HD Skin foundation to unify your complexion.
Finish with Ultra HD Micro-Finishing Loose Powder and a few sprays of Mist & Fix to set your makeup.
Use #Step 1 Shine Control to refine your skin texture, then to even out your complexion, use Ultra HD Concealer and HD Skin Foundation.
Finish with Ultra HD Setting powder and a few sprays of Light Velvet air to set your makeup.
To learn how to apply this foundation to your models, you can follow our Beauty & Fashion program covering everything from daytime makeup to the most sophisticated fashion show makeup, morphology, and colorimetry. Learn all the secrets and tips from our professional makeup artist!