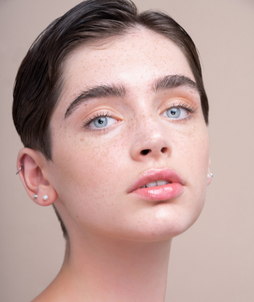 For a glowing complexion in 2022, the signature shade is peach. Spotted at Paris Fashion Week, it can be applied to the eyes, lips or cheekbones.
Milan Fashion Week, New York Fashion Week, and most recently Paris Fashion Week, the spring-summer 2022 shows are an opportunity to discover the makeup trends. This year, without a doubt, it is the Peachy Makeup that made the show. With eyeshadows and blushes in sunny orange and luminous pink finishes, it raises the temperature as the sunny days approach.
This year, in addition to a return to the glamour of the 2000s with contouring, peach, pink, and orange tones are going to delight you.
Explore trendy colors
Warm, sparkling and fruity colors, just like the seasons they represent, the Peachy trend has the advantage of being easily adopted by everyone. Is peachy makeup the new nude makeup?
The Peachy Makeup, nude or not?
Not quite nude, as it explores warm shades, the Peachy makeup gives us a healthy glow. This makeup wakes up tired faces and brightens up dark areas. In short, it illuminates your whole face.
Don't hesitate to choose shades close to your natural skin tone for naturally warm and soft daily makeup.
How to wear the season's star makeup?
As you can see, peachy makeup is all about natural skin tones, warmed by a peachy blush, but that's not all. This trend is to be worn on the eyelids and lips for a sun-kissed effect.
Switching from your red or brown lipstick for a peach, matte or glossy lipstick will enhance your lips by making them soft and natural. Your complexion will be even more luminous, every skin tone will benefit from it.
Tip: remember to apply a creamy base with a brush to your lips before applying your lipstick for longer wear. A little lip gloss will add a touch of sweetness.
Sunny, warm and luminous shades, an orange-pink halo, the application of an iridescent shadow on the eyelids and you'll have a shiny look.
By structuring everything with the eyebrows, mascara and a light line of eyeliner at the level of the eyelashes, you will have a look full of freshness, warmth and cheerfulness.
Already mentioned above, the peach blush is a must on the cheekbones. Choose your blush dark or light according to your complexion. It will redefine your cheekbones and illuminate your face. Combined with a natural complexion, peachy makeup will bring a fresh complexion.
Tip: did you know that the blush shades that are trending this year are ideal for concealing redness and brown or blue pigmentation spots?
Peachy Makeup was first spotted in fashion shows. To learn the makeups techniques of professionals on fashion shows and shotings, you can join our Beauty&Fashion course !
Crédits Photo:
MUA: Doina Bucatca @bucatcadoina_mua
Photograph: Clovis Lalanne @clovislalanne
Model: Marie L @ldrnmarie